One of our primary goals is to ensure the health & safety of members of our community. Due to COVID-19, our in-person peer support groups are currently canceled. We are exploring options to offer our group through web conferencing such as Zoom to help us follow physical distancing guidelines. Our main limitation is that our current group facilitator is an "essential" worker and is not available to run our group.

If you are experiencing instability or suicidal thoughts, please turn to the resources provided below:

National Suicide Prevention Lifeline
1-800-273-8255

Crisis Text Line
Text HOME to 741741

2-1-1 Tulare County
Call 2-1-1

Community Warm Line
1-877-306-2413

Disaster Distress Helpline
1-800-985-5990

National Domestic Violence Hotline
1-800-799-7233 and TTY 1-800-787-3224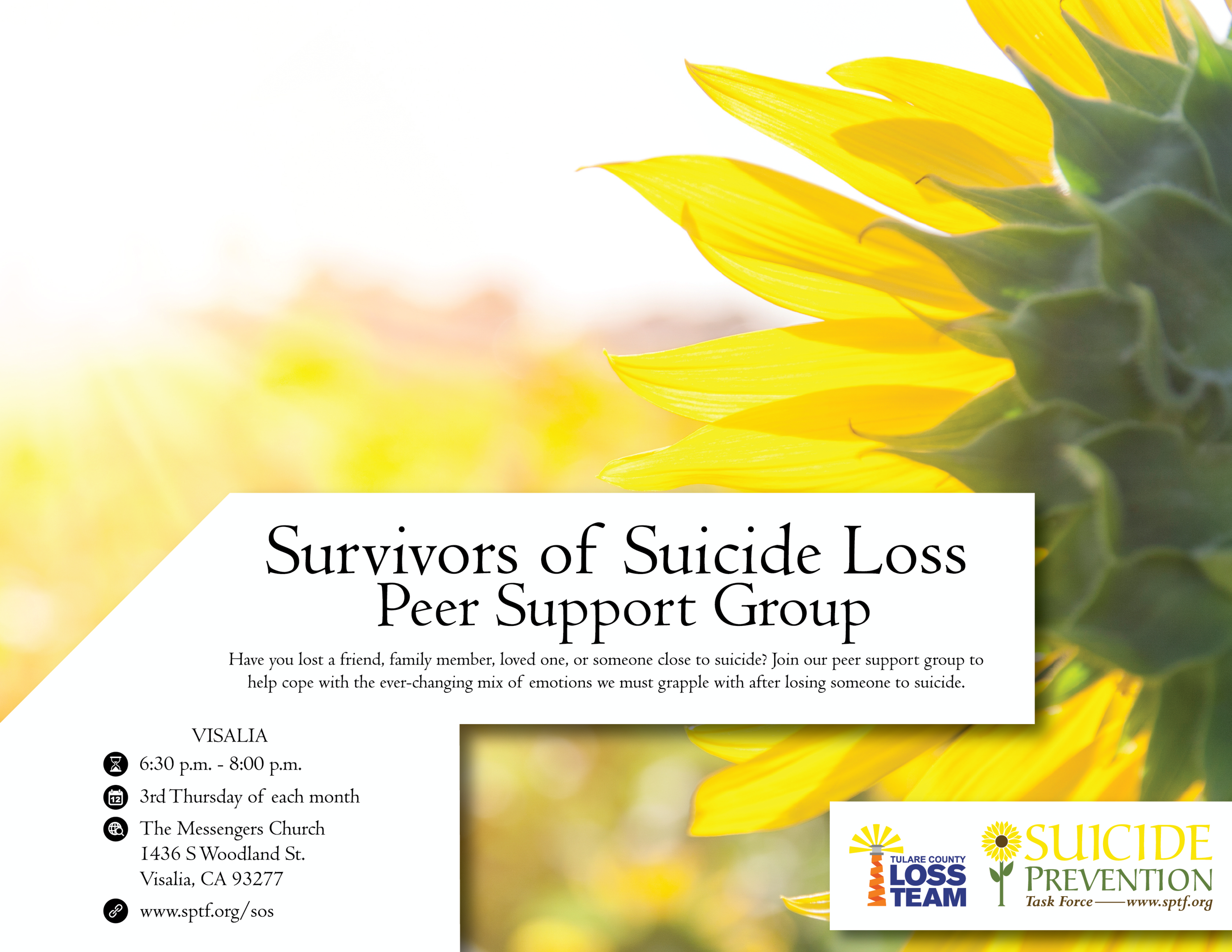 Have you lost a friend, family member, loved one, or someone close to suicide? Survivors of Suicide Loss is a monthly peer support group to help cope with the ever-changing mix of emotions we must grapple with after losing someone to suicide. Participants are encouraged to share and to discuss their changing feelings while taking the healing journey.
We currently host groups in Visalia. Our group is led by facilitators who have lost someone to suicide. Additional information, resources, and events are sometimes shared in the group.
Ideal Attendee
This group welcomes anyone who has had to cope with the shock, grief, and complex emotions associated with the loss of someone close due to suicide. Duration since loss can be any length of time. Survivors who experienced loss decades ago can benefit just as much as someone who experienced a recent loss. This is about building a community of survivors to support and encourage each other. Attendees are not required to share but should feel comfortable doing so, as this group strives to be open and supportive.
Flyer
Click here for a PNG image file or click here for a PDF
Cost
This is a free and open group, there are no fees or other costs.
Dates
Third Thursday of every month from 6:30 p.m. to 8:00 p.m.
2020: Jan 16, Feb 20, Mar 19, Apr 16, May 21, Jun 18, Jul 16, Aug 20, Sep 17, Oct 15, Nov 19, Dec 17
Location
The Messengers Church (formerly known as Woodland Drive Baptist Church)
1436 S Woodland St, Visalia, CA 93277 (map)