One of our primary goals is to ensure the health & safety of members of our community. Due to COVID-19, our in-person peer support groups are currently canceled. We are exploring options to offer our group through web conferencing such as Zoom to help us follow physical distancing guidelines. Our main limitation is that our current group facilitator is an "essential" worker and is not available to run our group.

If you are experiencing instability or suicidal thoughts, please turn to the resources provided below:

National Suicide Prevention Lifeline
1-800-273-8255

Crisis Text Line
Text HOME to 741741

2-1-1 Tulare County
Call 2-1-1

Community Warm Line
1-877-306-2413

Disaster Distress Helpline
1-800-985-5990

National Domestic Violence Hotline
1-800-799-7233 and TTY 1-800-787-3224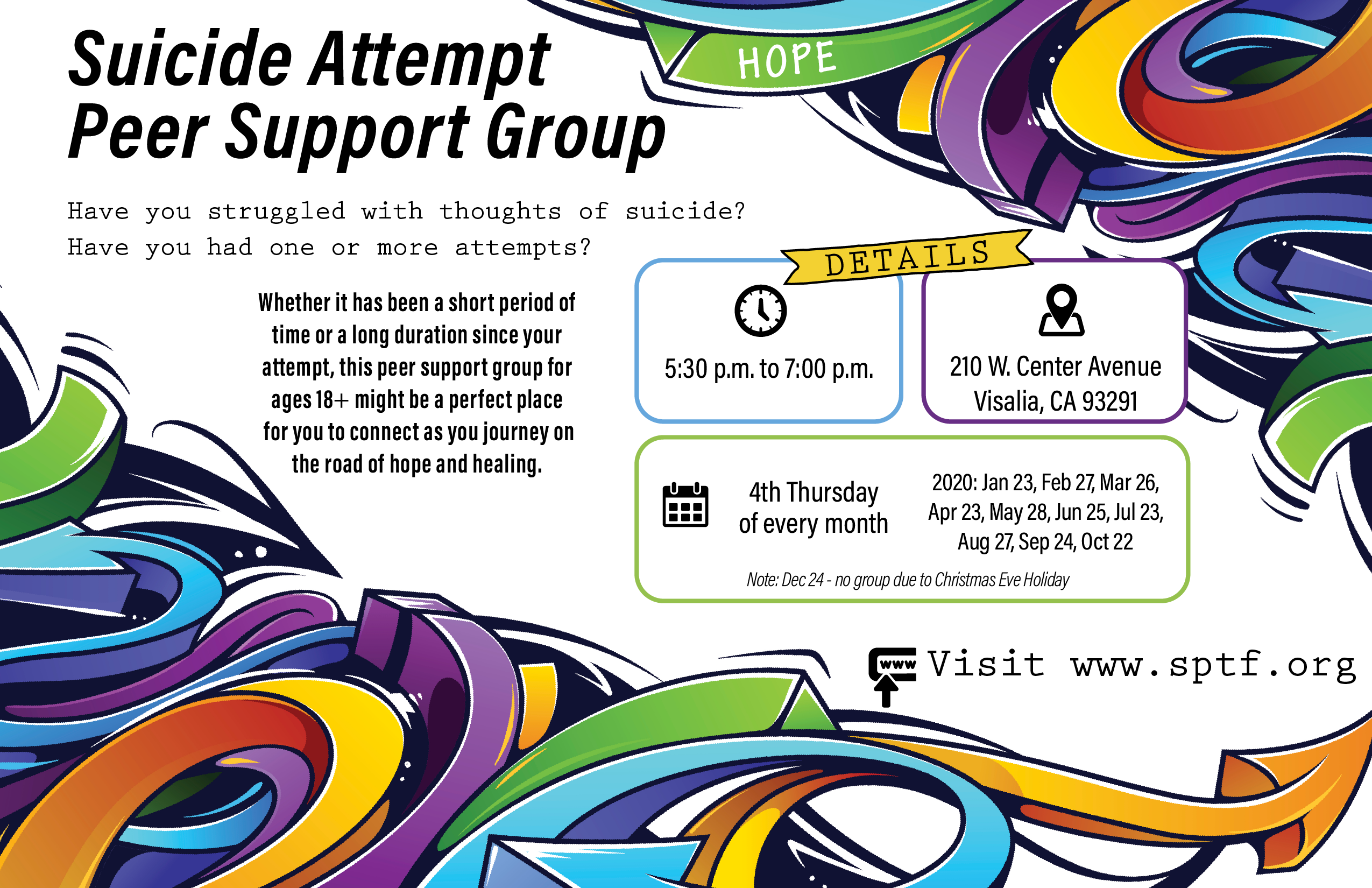 Overview
Have you struggled with thoughts of suicide? Have you had one or more attempts? Whether it has been a short period of time or a long duration since your attempt, this peer support group might be a perfect place for you to connect as you journey on the road of hope and healing.
Our Suicide Attempt Peer Support Group is a monthly group facilitated by a licensed clinician and a survivor of a serious attempt. This is not a therapeutic group but is intended to create a peer network of support for those who have survived suicidal thoughts and actions. This is a place to connect and find hope.
This endeavor will develop a peer-driven support group that assists attendees in sharing their experiences in finding strategies to help cope with thoughts and feelings of suicide, to share what has and has not helped in overcoming these challenges, and to develop an encouraging network of support.
Participants are encouraged to share and to discuss their changing feelings while taking the healing journey. Attendees are not required to share but should feel comfortable doing so, as this group strives to be open and supportive.
Ideal Attendee
Anyone who has struggled with suicidal thoughts and/or has had one or more suicide attempts. Duration since attempt can be any length of time. Survivors who attempted many years ago are welcome to attend.
Flyer
Format: Click here for a PNG or Click here for a PDF
Facilitators
Darcy
Cost
This is a free and open group; there are no fees or other costs.
Time
5:30 p.m. to 7:00 p.m.
Dates
2020: 4th Thursday of every month - Jan 23, Feb 27, Mar 26, Apr 23, May 28, Jun 25, Jul 23, Aug 27, Sep 24, Oct 22, Nov 26, Dec 24 (No group due to Christmas Eve).
Location
210 W. Center Avenue, Visalia, CA 93291 (map)
Questions or Comments
Please send an email by clicking here, or call (559) 624-7471.