For accurate and up-to-date information on COVID-19 in Tulare County, please visit:

Tulare County Health & Human Services Agency
Facebook Page or COVID-19 website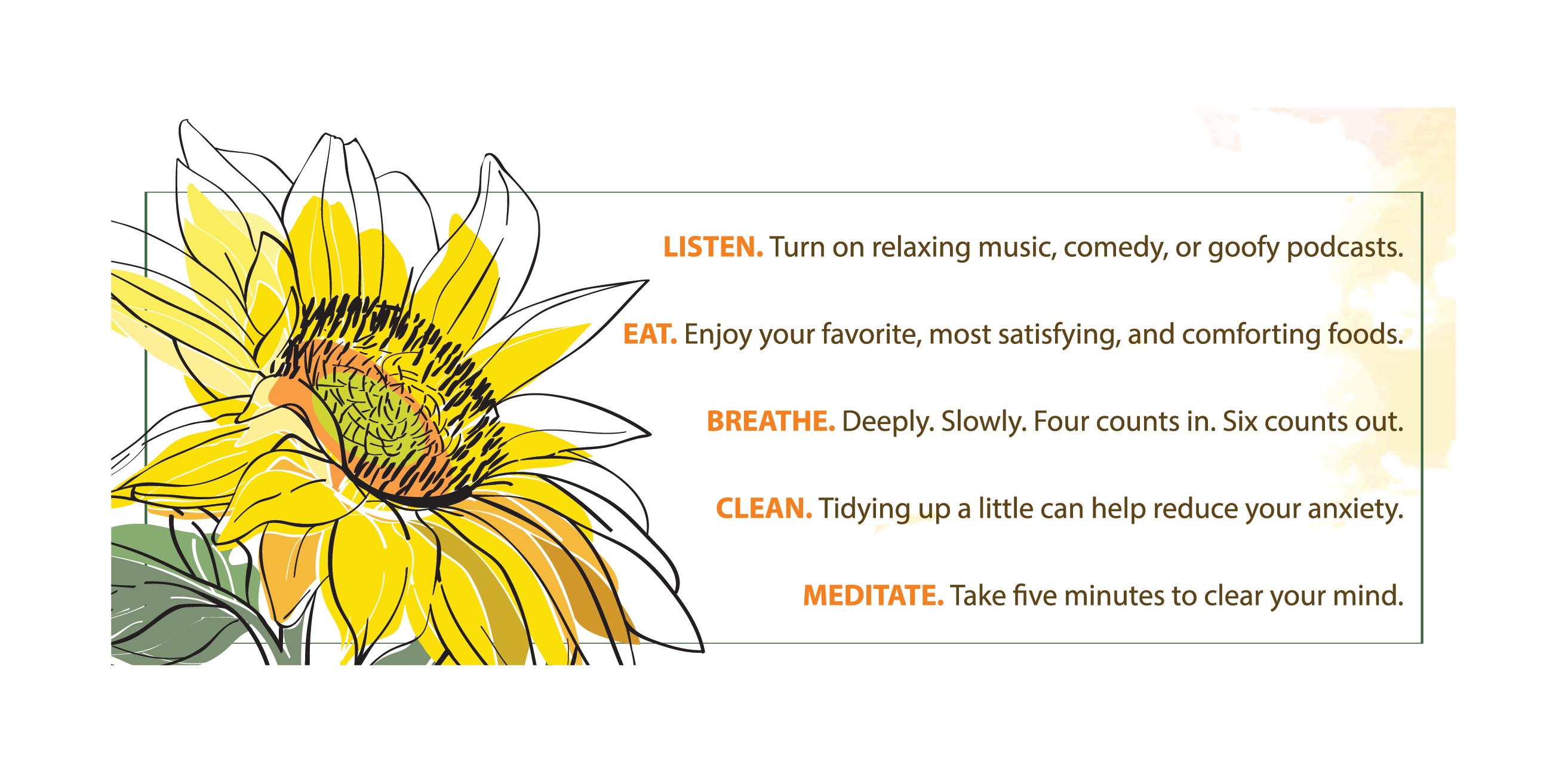 Click Here to download our 10 Coping Skills for Better Emotional Health leaflet.
These are trying times for many of us. The outbreak of coronavirus disease 2019 (COVID-19) may be stressful and impact our lives in numerous ways. It is natural for our bodies to jump into our fight, flight, or freeze response, which can lead to anger, anxiety, depression, and other reactions. Just as we are heightening our awareness of physical health and safety, we need to also be paying attention to our mental and behavioral health and safety.

As with any crisis, this pandemic can bring about a great deal of stress in our lives, such as:
Fear for our health and safety as well as that of our friends and loved ones
Worry about our finances and uncertainty of the future
Overeating or lack of appetite
Difficulty sleeping or sleeping too much
Increased use of alcohol, tobacco, or other drugs
Irritability or "walking on eggshells"
Worsening of preexisting mental health conditions

It can be helpful to keep in mind that we all respond differently in these times. There isn't necessarily a right or wrong reaction, but there are healthy and unhealthy ways to cope. It is essential that we engage in self-care activities during these times to keep our mental health in shape.

Some actions that can help us reduce stress include:
Taking a news break. This is setting aside time to not listen to the news, read articles, or browse social media.
Exercise. Stretch, take a walk, and engage in simple physical activities to increase your heart rate.
Meditate. Listen to relaxing music, white noise, and take focused breaths.
Connect. Call, text, or video conference with a friend or family member (and don't talk about COVID-19).

If you are experiencing instability or suicidal thoughts, please turn to the resources provided below:

National Suicide Prevention Lifeline
1-800-273-8255

Crisis Text Line
Text HOME to 741741

2-1-1 Tulare County
Call 2-1-1

Community Warm Line
1-877-306-2413

Disaster Distress Helpline
1-800-985-5990

National Domestic Violence Hotline
1-800-799-7233 and TTY 1-800-787-3224